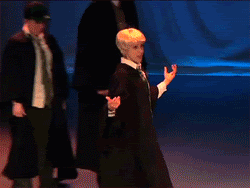 I HAVE DISCOVERED THE BEAUTY OF A VERY HARRY POTTER MUSICAL. LATE IN THE GAME, I KNOW, BUT WHATEVS. BETTER LATE THAN NEVER.

THIS IS PERHAPS THE MOST HILARIOUS EPIC SHIT I HAVE EVER WITNESSED IN MY LIFE. THE DEDICATION OF RE-CREATING A PARODY OF THE SERIES IS JUST, IDK, UTTERLY GENIUS? SERIOUSLY. THE COMEDY IS PURE GOLD, I ABSOLUTELY LOVE THAT THEY HAVE A GIRL PLAYING DRACO. LAUREN LOPEZ IS JUST PERFECT IN THE ROLE (SEE GIF ABOVE). SHE COULD ACTUALLY CARRY ON FOR A DRACO MUSICAL SPIN-OFF OR SOMETHING, THAT WOULD BE EVEN MORE AWESOME!

ALSO, VOLDEMORT IS HOT. WHUT?

SERIOUSLY AWESOME SHIT. THIS WILL TOTES CHANGE HOW YOU SEE HARRY POTTER FOREVER, UNLESS THE MILLIONS OF CRACKFICS IN THE HP FANDOM HAVEN'T ALREADY CORRUPTED YOU ALREADY.

CAPSLOCKING NECESSARY BECAUSE I AM SLEEP DEPRIVED + WATCHING THE MUSICAL AND GETTING ALL EXCITED FOR HP AGAIN + WATCHING THE LATEST SPN PROMO AND GETTING HYPED UP OVER THAT = ME NO SLEEPY AND ALL CRAZY, KTHXBAI GO PIGFARTS!