It figures since the revival of my HP love since HBP came out that I would automatically do a fanmix, particularly centering around Draco. I had nearly forgotten the reason why I loved his character so much, and the new film reminded me exactly why. So, why wouldn't I make a mix for him? Honestly. This is a darker, more ominous mix than I've done before, at least the concept behind it is.
Notes:
Draco Malfoy is one of my favorite characters in the
Harry Potter
series. There's no denying he's one of those characters that you kind of love to hate, with his blatant schoolyard bullying and antagonistic behavior towards Harry and his friends. However all that shifted in
Harry Potter and the Half Blood Prince
when we see his growth and character development, showing us something we've never seen before with him. Draco transformed from a one-dimensional to three-dimensional character as he undergoes an extraordinarily complicated mission and is caught between a rock and a hard place because of it. His humanity is fleshed out well in this book, I thought, and it was done brilliantly. Through this mix I wanted to illustrate this impossible mission from the Dark Lord was for Draco, the hardship he must endure while going at it alone, dealing with his inner turmoil, the loneliness, the anguish, the frustration and determination, as well as the overbearing guilt of what he must accomplish.
Song/Mix Meta:
The first track, "O Death", is the modified rendition that's been produced and used in the
Supernatural S5 promos
, and is a hauntingly ominous and chilling song which I felt was perfect for the introduction, showing that Draco is forcefully recruited by the Death Eaters and given his mission from the Dark Lord, also giving the atmosphere of the state of the Wizarding World, how danger lurks around every corner. "Somewhere Else To Be" follows suit, giving the sense that Draco is torn, and the songs "Everytime I Die" and "What If" demonstrates his sixth year at Hogwarts, going day by day with the weight of everything on his shoulders and having nobody to talk to about it, however refuses help when it is offered. "At The Gates of Retribution" is Draco's deteriorating state of mind, his morality takes hold as he tries to reason with his own conscience of his last task of killing Dumbledore; he is tired, exhausted, he can't fathom completing this mission and he is
crumbling
. He is lost, scared, alone, and unable to complete the task even though he's come all this way by the means of protecting his family. "Where Butterflies Never Die" is the overlook of Draco through
Half Blood Prince
, from beginning to the end, as he travels through like a ghost, haunted by what he has to do. And, of course, "Malfoy's Mission" which completes the mix; it's a haunting track from the actual score from the movie, and is perhaps my
favorite
track of the entire soundtrack, the piano and the flute are so gentle, yet so chilling, giving us the sound of Draco's journey this entire time.
And the Biblical verses given before and after the mix were deliberately chosen; the first (which is the inspiration for the mix title) giving us a sense of his family pride despite the huge responsibility, however the last verse given is that pride vanishing, the weight was too much for him to bear as he struggles with what he has to do, and finds his entire world collapsing underneath his feet.
through the valley of the shadow of death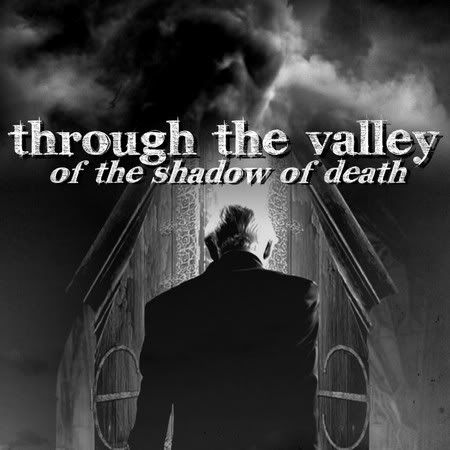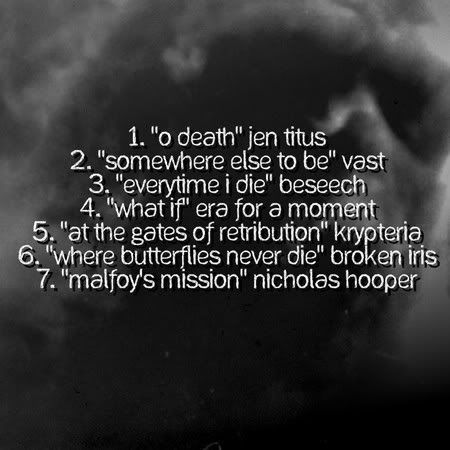 Even though I walk through the valley of the shadow of death, I will fear no evil, for you are with me; your rod and your staff, they comfort me.
~ Psalm 23:4 (NIV)
TRACKLISTING

01. "O Death" by Jen Titus

But what is this that I can't see
With ice cold hands taking hold of me
When God is gone and the Devil takes hold
Who'll have mercy on your soul?

02. "Somewhere Else To Be" by VAST

Is there somewhere else to be?
Take me in
I want out
That's all I need

03. "Everytime I Die" by Beseech

Through nightmare
Shades and dreamy Hughes
Still hunted by the things I've made
My shadow still lingers all around
Will it never end?

04. "What If" by Era For A Moment

I've been right here
When all of it crumbled down around me
Now I don't know if I should stay away from here
Right now I wanna run away
'Cause I could never save the day

05. "At The Gates Of Retribution" by Krypteria

The game is over; I've come to the end of this road
I lost my soul on the way up, if only I had known
The game is over; I'm facing the ruins of my life
But I won't go down in ashes without one last cry

06. "Where Butterflies Never Die" by Broken Iris

Utilize surrendering, when silence falls, to you it sings
Sterilize your mentality, compromise your reality
Restful mind and peaceful eyes
When sound is gone then you will find
It's all the same for the dreamers

07. "Malfoy's Mission" composed by Nicholas Hooper

Instrumental
What I feared has come upon me; what I dreaded has happened to me.
I have no peace, no quietness; I have no rest, but only turmoil.
~ Job 3:25-26 (NIV)
DOWNLOAD ZIP FILE
Current Mood: creative
Current Music: Jen Titus - O Death