This deserves it's own post. I thought about posting this in my Chicago Con report because it would make for great visual along with the story, but I decided that this is better by itself. Because seriously? This was the most EPIC MOMENT OF ALL TIME right here, and I was right there on the ground floor of it all. And really, who doesn't want to see this again?

It needs no explanation, other than the Misha/
tracy milkshake date.




♥ AREN'T THEY JUST SO PRECIOUS?! ♥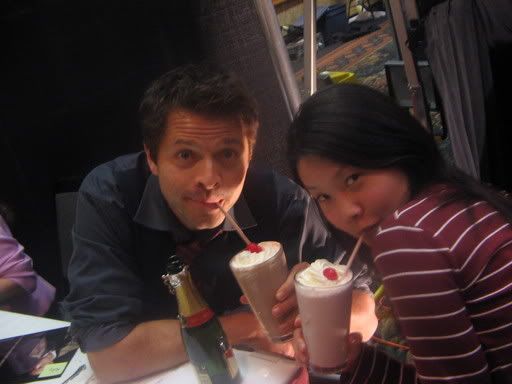 Me and
vichan were the only ones there to take pictures of this priceless moment, and this one is mine. I'm quite proud of it actually. I rarely get great pictures of epic moments like these and it was just a spur of the moment decision of "hey, get a picture while they're posing like this" and I did! AND IF ANYONE SAYS THIS NEVER HAPPENED, I HAVE PICTORIAL PROOF OF IT! BOO YEAH BBS!


I kinda now ship Misha/Tracy because of this picture. For reals. How adorable are they? OTP! ♥

Also, I've been really seriously contemplating about attending the LA Con in March. And by seriously contemplating, I mean seriously contemplating it. It's in my state, it's not that far (only several hours out by driving, less by flight) and just yeah. Money wise I'm thinking about either going cheap plus maybe autographs and whatnot or splurge and go all out, possibly for the Silver Package, I don't know. It's still in the process of thinking right now because I need some employment first before anything happens since this last trip alone was expensive like whoa, but I'm dead-set on attending another con sometime soon.

My God, what am I turning into?