Looking for something new to watch? Want some lighthearted and zany kind of fun to fill your time as the summer hiatus continues? Well, look no further! As promised I am writing a pimping post for
Warehouse 13
, which is one of my favorite lighthearted television shows of the summer that always gets me smiling no matter what. Also, since I feel many of us have been emotionally drained from our fall shows that just ended and we need something to pick us up again, have us smiling and in a good mood. Well, in my humble opinion, this is the show that does that job perfectly.
What is Warehouse 13 About?
Warehouse 13
is a supernatural/fantasy dramedy on the Syfy Channel, which focuses on two secret service agents, Myka and Pete, who are reassigned to a highly classified department of the government known as Warehouse 13 which houses powerful and mysterious supernatural artifacts. These artifacts have supernatural abilities which are connected to a historical or mythological figure, and they can range from being harmless to extremely deadly. On the show we follow these characters and their missions to "snag, bag and tag" these artifacts and bring them back to the Warehouse, and seeing their interactions with each other and other personal stories that are involved. The show itself is definitely on the dramedy side, being incredibly lighthearted and funny and goofy while still maintaining a dramatic side to specific storylines and arcs.
The Characters: Just Like A Huge Wacky Family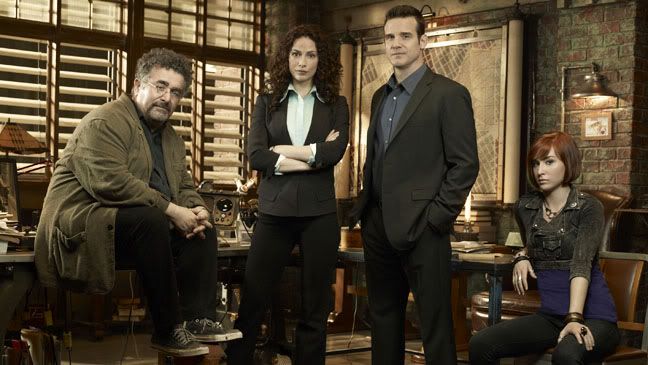 Just as it says, the characters of this show have become a created family, an oddball kind of family really, but a family nonetheless. It starts off with introducing our two main leads, Pete and Myka, and we gradually get into the other characters and by the end of the first season there's an established family unit between all the characters. Personally, this is something I like seeing in my shows, whether with an ensemble cast or just with a few characters, a sense of
family
being seen and we see that with these people, both the characters and the actors. I mean hey, there's even certain roles that they fit into which I've personally categorized them into, based on how they all interact on the show:
The Parental Units
: Artie and Mrs. Fredrick. They are the authority figures, gives out the orders but also care about the well-being of their agents.
The Aunt and Uncle
: Pete and Myka. They have this playful banter between them, one is incredibly wacky while the other tries to maintain a sense of professionalism, however always end up having friendly bickering sessions. But at the end of the day, they are professionals and they are efficient in their job.
The Daughter
: Claudia, oh totally Claudia. She's like that rebellious, spunky and cool daughter-figure of the entire show who is incredibly tech-savvy and adds just a bit of flavor to the whole family unit.
The Cousin
: Leena. She's trying to keep everyone together and live happily, and helping whenever she can.
Every character complements each other really well, brings out a lot with each other and it's lovely to see that. Also, I can honestly say that I don't dislike
anyone
on this show. Every single character is amazing, unique and well-rounded in their own way, it's difficult to find anything to dislike about anyone on here. They really truly are a family unit and they just work so well, it's hard to imagine this show without this cast, to be honest.
The Opening Credits
Holy Steampunk, Batman!
Warehouse 13
is very steampunk-inspired, as
this old article shows and demonstrates
just what kind of gadgets and trinkets the Warehouse team deals with while on their assignments, and even inside of the Warehouse itself. From steampunk computer and keyboard to the Tesla guns they use to neutralize the artifacts via electric volts. One of the most notorious that the characters are seen using are the Farnsworths, which look like an ancient two-way video chat communicator. Also, Claudia ends up reconstructing and inventing things pretty much on a daily basis, her first appearance we see her sporting her own invention of electro-handcuffs. So we can see her being all creative with her skills in creating more of that kind of gizmos and gadgets. For anyone who likes the steampunk subculture, you'll enjoy this aspect of the show.
The Artifacts
Ever wondered what's so special about Ben Franklin's lightning rod? Or Lewis Carroll's mirror? Sylvia Plath's typewriter? Rheticus' compass? The Studio 54 disco ball, or even Edgar Allan Poe's quill and notebook? All of these, and plenty more, are
artifacts
that have been gathered and placed in the security and safety of the Warehouse.
Artifacts are mysterious relics and objects that hold supernatural and fantastical elements to their being, and are referred to as an "extension of a person" who previously owned that artifact. These objects can vary from being completely harmless to incredibly dangerous, and the ones that are more powerful and dangerous are stored in the Dark Vault of the Warehouse. Warehouse agents are set out to retrieve artifacts around the world so that they don't fall into the wrong hands. Over the course of the show we see exactly how people are influenced by these artifacts, whether they are aware of the effects or not, including the Warehouse agents themselves. For more information on the artifacts and how their properties and how they function, you can
read more here
along with getting to see the massive list of
what kinds of artifacts can be found on the show
. Some might actually surprise you.
The Guest-Stars
This show has had a great selection of guest stars, such as Tricia Helfer, Michael Hogan, Jewel Staite, Sean Maher, Joe Flannigan, and even our favorite resident fandom-ninja actor
Mark Sheppard
, who plays a recurring role in S1 and S2.
Allison Scagliotti: Geektastic Tour Guide Extraordinaire
Allison Scagliotti plays the fantabulous Claudia Donovan on the show and, much like Claudia herself, she is very cool and spunky and incredibly and adorably personable, and has become the unofficial spokesperson of sorts for the show (at least imo, anyway) as she's been doing these viral videos for the show's official page on Syfy.com which document the filming process and her and the casts wackiness. Just, watch. She's adorable. ♥
OVERALL: Why Should You Watch Warehouse 13?
Funny, witty dialogue, wacky and fascinating adventures and characters, this is the kind of show where you can just sit back, relax and just enjoy watching. There's no need for heavy meta or deep philosophical kinds of discussions (and very little wank in this fandom, thank God), it has entertainment value of the wacky and silly and cracktastic kind, but it also has characters that you end up loving and caring about. Their relationships with each other and seeing them interact, that's the best part, in my opinion. The artifacts are cool and the wacky adventures they go on are also awesome, but the characters are definitely the best part of the whole show.
Also, this show is very women-friendly. There are only two consistent male characters of the main cast, the rest are all female. I mean come on, they even made H.G. Wells
into a woman
for goodness sakes. That should say something right there.
Believe me you guys, this is
the
show to watch. It's my favorite giddy-filled, fun time show and if you aren't watching then you're totally missing out.
Warehouse 13
airs on the Syfy Channel, its third season starts
Monday, July 11th @ 9/8c.
Their official webpage
for more information.
Current Mood: accomplished